Faster Reporting with Snowflake OLAP DWH (for Enterprise Users) 
The bigger the organization, the bigger the data. And sometimes the data is so big that data analysis can become a bit slow. For this reason, we have added a support for additional OALAP Data Warehouse (DWH) database that is used exclusively for data analysis and flex.bi report execution. This new feature allows our Enterprise users to use a snowflake OLAP DWH database ( for example, Vertica) for data analysis, to facilitate smooth handling of a large data amount, using the power of snowflake.
See more information on our documentation page here.
Custom Fields for HW File Import 
Custom field functionality allows our customers to adjust the predefined HW data cubes to the particular needs of their company, by adding an extra measure, property, or dimension to the standard dataset. Until now, this feature was supported only for the Rest API data import, but in this release, we have extended the support also for file import. Check it out in the Advanced settings.
Custom Field Measures Sharing in Multiple Cubes
On the same custom note, we are happy to announce that, as of this version, the custom field measures can be shared across multiple cubes, so, for instance, if you create a custom field measure in the Sales cube, you can also use it for analysis in the Purchase cube. That's just a bit more of the flexibility that we deeply care about.
See more information on our documentation page here.
More Control Over Regular Import Errors (for Enterprise Users)
Errors do happen. We can't always avoid them, but we can implement a suited damage control procedure. For example, by default flex.bi regular imports are canceled after 10 consecutive import errors, which is fine in most cases. But in some situations, this default rule could be too strict or too loose.
With this release, the admin of a flex.bi Enterprise server can override this default setting, to make the flex.bi Enterprise server more or less responsive to regular import errors.
More Control Over HW Rest API Import Timeline
When setting up a HansaWorld Rest API import application, you have to specify three time-related parameters – import start time, refresh period, and frequency. Until now, these settings were the same for all of the data cubes, which was not very flexible.
In this release, we have added 3 new parameters that allow you to customize import start time, refresh period, and import frequency for each register.  This means that you can import all of your invoices from the beginning of time but sales orders – only starting from the previous year. Or you can run the import for operative data more frequently than for the statistical data. In short – with these additional parameters, you can become the master of time – at least in respect of your HW data imports.
See more information on our documentation page here.
Facelift for our  Documentation
We believe that documentation is an integral part of our product and has to be informative, up-to-date, and primarily useful. To achieve all of these qualities, we have reworked our documentation from the ground up, making the structure more clear, removing the outdated information, and adding a lot of useful stuff for our customers to lean on.
Check it out for yourself here.
These are just our top picks from all of the new features in flex.bi 6.3.6. Please, visit our changelog, for the complete list, and of course, explore and check out those goodies yourself in your account.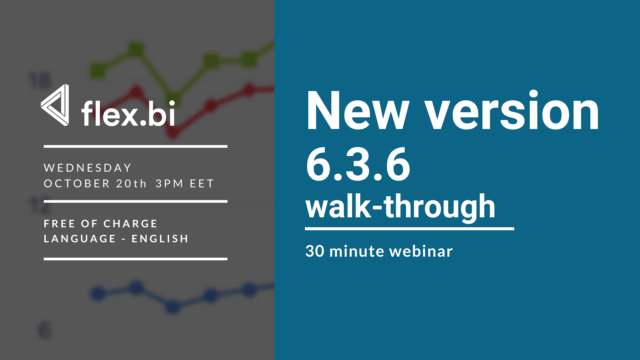 Keep safe and keep on reporting!