flex.bi is proud to announce our seamless integration with Standard Books ERP software, which is the most popular  ERP in Estonia's small and middle company segment. Comprehensive business software with nearly 30 modules to support the daily operations of businesses now can offer their users built-in analytics dashboards empowered by flex.bi platform.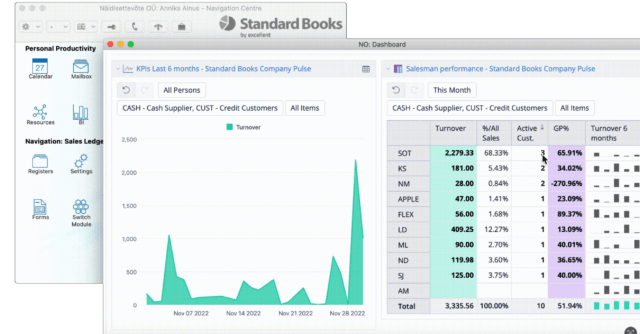 Standard Books Company Pulse Dashboard
With this solution, we have technically solved many challenges for embedded analytics and made or dynamic reports available ERP software like organic component. New level of  integration with Standard Books allows businesses to take their operations to the next level by providing them with the tools they need to analyse their business KPIs right in ERP system. 

Standard Books users now benefit from: 
Detailed reports for Customer, Item, Customer Class, and Item Classes registers with statistics and trends. 


Price of built in dashboard is 9EUR/ month with 3 months TRIAL period and option to upgrade any time to any of flex.bi Cloud plans. At the moment This solution is available only in Estonian market, but soon will be launched also in Latvian Standard BOOKs version.   
If you are interested in more details about this integration please visit eazyBI partner days 18th & 19TH of May or our Partner days on the 16th June, 2023. 
 For any questions please contact us at sales@flex.bi.